Sustainability
Travelling With CBD Oil From The UK? Here's What You Need To Know...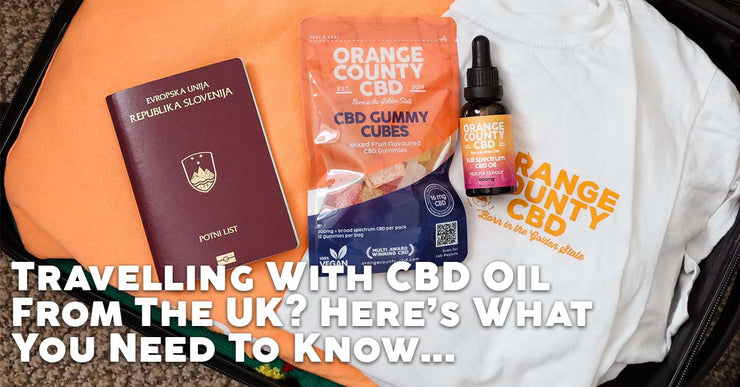 Travelling With CBD Oil From The UK? Here's What You Need To Know...
We all get that unexplained panic when we go through airport security. Waiting for our bags to get the green light feels like an eternity, and for some weird reason, we can't help but think someone's planted something dodgy on us, and our dreams of sunning ourselves in Ibiza will go quickly down the pan.
You might have even seen that story last year about a fella who moved to Dubai from the UK and was given a long prison sentence after being found with CBD vape oil in his possession. And now you're thinking about that CBD oil in your luggage and your palms are sweating a bit.
So, to clear your mind before you pack CBD in your luggage, let's discuss the rules surrounding CBD oil on planes in the UK. We'll cover what is and what isn't allowed, with loads of info on travelling with CBD just for you.
Can you take CBD oil onto a plane in the UK?
CBD oil is classed as a legal food supplement in the UK, so it's perfectly fine to take on a plane from a UK airport. The staff and security at the airport will be clued up on the rules about taking CBD oil on a plane, so you shouldn't have any issues - as long as the bottle is clearly labelled. Which it will be, as long as you bought it from a reputable UK supplier. (Cough, Orange County.)
Of course, everyone wants a worry-free journey. You're dreaming of daiquiris on the beach, not hold-ups at the airport. So double-check with your airline about their rules on CBD products before you travel. 
You'll also need to check with the destination airport and familiarise yourself with the CBD laws in the country you're visiting. But more on that later. Something to look forward to.
For now, the key thing to remember is that CBD is legal in the UK, but each case must contain less than 1mg of THC.
So, you can take your CBD on a plane legally, but just TO SAY IT LOUDER FOR THE PEOPLE AT THE BACK, make sure you check that the country you're travelling to allows CBD to avoid a nasty surprise.
 To recap, here is a checklist of things you should do before travelling with CBD:
Speak with your airline first. It'll save you time and ease your anxiety!

Take the time to understand CBD laws in the country you're travelling to.

Make sure you're abiding with UK law and regulations at the time of travel
CBD Law & Considerations (UK)
Part of answering the big question "can you take CBD oil on a plane in the UK?" involves understanding CBD and law in the UK.
For an oil to be legal in the UK it must contain only trace amounts of THC. So, before you attempt to bring CBD oil through UK security, check the product itself is actually legal first.
The best way to go about that is to only get your CBD oil from a trusted CBD oil company.
Like we said, just give your flight provider a call beforehand if you're still feeling anxious about bringing CBD oil with you on your travels.
Can you take CBD in your hand luggage?
Yes, you can take CBD oil with you in your carry on luggage! If you're following the regulations of the UK, you shouldn't have a problem going through airport security with CBD oil.
If you're anything like us, you won't want to go the entire flight without your CBD. There are still rules in place about taking CBD oil in your hand luggage when flying. Like all liquids, you can only take less than 100ml and need to keep it in a clear plastic bag when you go through airport security.
So do a happy dance: You'll be able to reap the benefits of CBD oil before, during and after your flight Keep in mind that vaping may be unallowed or frowned upon during the flight, so stick to CBD gummies and CBD supplements.
Also remember that vapes aren't allowed in your hold luggage (checked bags) for both domestic and internal flights.
Will you get arrested for travelling with CBD oil?
While you won't be arrested for travelling with CBD oil in countries where it's legal - like the UK or across the EU - there are some global destinations that don't permit CBD products. Which is why the man who moved to Dubai faced some nasty consequences.
So while you're buying new sunglasses and stocking up on sun cream, be sure to check whether CBD is legal in the destination you're travelling to. More and more countries are taking steps to make CBD oil and other CBD products legal, but we're not quite there yet in terms of full global acceptance. There are some parts of the world where you can't travel and take CBD with you.
CBD is still classed as an illegal substance in the following countries (this list may not be exhaustive):
Afghanistan

Albania

Andorra

Armenia

Bangladesh

Belarus

Belgium

Bhutan

Bolivia 

Bosnia and Herzegovina

Dubai

Guyana

Iraq

Lithuania 

Iceland

Moldova

Monaco

Nepal

Russia

Serbia

Slovakia

Venezuela
It's not advised to travel with CBD to any African nation
It's not advised to travel with CBD to any nation in the Middle East
Laws also vary across US states
Sounds simple enough. It isn't (sorry). CBD legality is a grey area in some countries. For example, in Australia and Brazil, CBD is solely allowed for medical reasons, so you'll need a prescription. In Ukraine, even a trace amount of THC deems a product illegal, so only 0% THC products are allowed.
Again - check the laws of your holiday hotspot before you take CBD on a plane!
What CBD oil is best to fly with?
For starters, if you're taking CBD on a flight, make sure the bottle's clearly labelled as CBD and a food supplement. Avoid bringing really big bottles of CBD with you - it's more likely to draw attention as you travel. We recommend packing no more than 30ml bottles of CBD oil when you fly. Good thing our range is available in all sorts of strengths and flavours. 
Instead of taking a lot of CBD oil when you travel, just choose a higher strength and achieve your ideal dosage that way. We've got strengths ranging from 500mg CBD oil right up to 6000mg, for the more seasoned users.
Not sure where to start? Check out this guide on how many mg are in a drop of CBD oil. 
Final call
Take the time to do the necessary checks before you travel with CBD oil and you should have no issues taking your CBD on a plane and enjoying the usual benefits while you're away from home. 
Hopefully by now we've answered your question "can you take CBD oil on a plane UK" but if you still have questions, just drop us a line!
Useful Resources
Sustainability