Sustainability
Everything you need to know about CBD disposable vape pens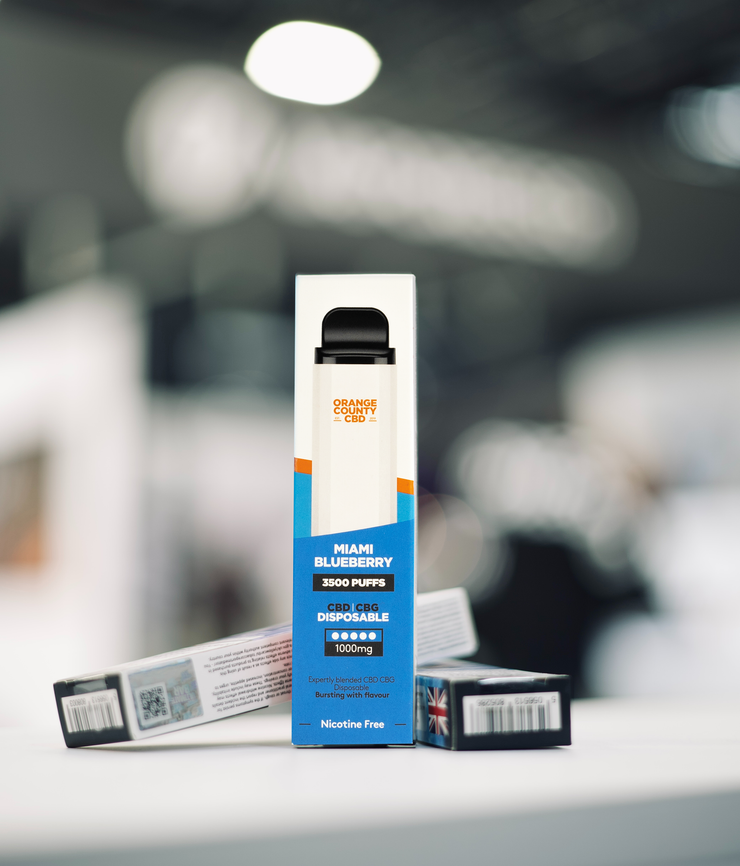 Everything you need to know about CBD disposable vape pens
After the huge success of our award-winning range of Breaking Bad and Cali e-liquids, we're excited to be launching a brand-new range of CBD disposable vape pens that use our e-liquids in this really handy form.
But first... what is a disposable vape?
Disposable vape pens are devices that come fully charged and filled with e-liquid, and are designed to be a simple, affordable and convenient way to vape, whether you're new to vapes or just want a hassle-free ongoing vaping experience.
You don't have to worry about recharging, refills or replacing coils – disposable vapes are an easy and effective choice.
Once your disposable vape has run out of e-liquid, you simply buy another to carry on vaping. This makes it a good option for those entering the world of vaping for the first time who want to make sure it's for them before spending on a mod, which can be pricey.
Many vapers choose disposable vapes on an ongoing basis too, as they offer a really straightforward and handy way to vape, without the hassle of carting a charger around or having to buy any refills.
Disposable vapes don't have the multiple options available with complex mods, which works well for people who just want a simple and flexible way to vape and don't need to customise lots of settings or to have to worry about maintaining a rechargeable device.
They are also ideal for travelling or vaping when you're out and about because they weigh a lot less and are much less bulky than most rechargeable e-cig kits and mods.
Orange County CBD Disposable Vape Pen
Here at Orange County, our range of terpene infused, CBD disposable vape pens are one of the easiest, most delicious ways to get a powerful hit of beneficial cannabinoids.
Designed to recreate the tastes and smell of a huge range of different cannabis strains, our CBD disposable vapes are packed with unique flavour.
Whether it's the sweet taste of Strawberry Kush, the fruity hit of Mimosa or the out-of-this world impact of Alien OG, all our disposables haver been made using authentic terpenes, you won't find flavours this good anywhere else on the market.
Introducing our flavours:
BLUEBERRY MUFFIN - With a distinct scent of freshly-baked, blueberry muffins, expect a smooth, creamy taste from this hybrid strain that makes for a really mellow, tasty toke.
GELATO - Known for its perfect balance between Indica and sativa, this smooth, woody strain incorporates flowery lavender and earthy notes which gradually transform into a citrusy, berry-inspired flavour on the exhale.
LEMONADE - This sativa-dominant, hybrid strain is famous for its delicious flavour of sweet lemons, with just a touch of lip-puckering sour herbs. The aroma is very similar, with an earthy overtone that's accented by sour citrus and herbs that sweetens the more that you toke.
ZITTLEZ - This indica-dominant, hybrid strain is famous for its distinct, candy-inspired aroma. With a sweet berry flavour and a tropical citrus aftertaste, this delicious strain will linger on your tongue long after you finish toking.
BANANA KUSH - An Indica dominant strain that smells and tastes just as the name suggests - a smooth blend of bananas and good kush. Famous for it's super-mellow taste, Banana Kush has consistently been one of the most popular strain around.
MANGO HAZE - Packed full of tropical fruit flavours for a bold, sweet taste, this sativa-based strain is famous for its delicious mango aroma, and for being as uplifting as it is tasty.
STRAWBERRY KUSH - This sativa-dominant, hybrid strain is famous for its super-sweet aroma, and it's fruity flavour of ripe strawberries. With an aroma that combines citrus, pine and strawberry, this strain gets more delicious the more you toke.
ALIEN OG - Famous for being a perfectly balanced hybrid strain, Alien OG boasts a delicious lemon and pine flavour that has earned it a truly out-of-this-world reputation.
WEDDING CAKE - This Indica-dominant hybrid is famous for its rich and tangy flavour. With a low-key aroma of earthy scents, this strain is the perfect combination of the sweetness of cookies and fruitiness of a cherry pie.
MIMOSA - Similar to it's not-so-distant alcoholic cousin, Mimosa will lift you up in a citrus infused euphoria. But one too many puffs will send you into a deep slumber (Minus the regretful hangover)
How to use a disposable vape pen for the first time
Disposable vapes work in a similar way to smoking with a lit cigarette. You don't need to press any buttons or worry about settings, charging or filling it with e-liquid.
Everything comes already installed and ready to go when you buy. You simply inhale from the disposable vape as required.
How long will a CBD disposable vape pen last?
Disposable vape pens usually last for around 300 puffs, but this can vary depending on your own style of vaping i.e. the length of inhale.
Depending on your vaping habits, this could easily be enough for a weekend away, several nights out or a short holiday for moderate to heavy vapers and even longer for those who vape more infrequently.
Disposable vapes are designed so that the battery shouldn't ever run out before the e-liquid has all been used.
What are the benefits of vaping CBD?
Vaping is a popular way for people to take CBD, especially if they are already vapers or smokers. CBD vapes don't contain nicotine, so don't have the risk of addiction in the same way as tobacco products or nicotine-based e-cigs do. One of the reasons it's so popular is because vaping CBD gets it into your system quickly and with minimal loss along the way (known as having high bioavailability), so the effects can be felt almost instantly.
Those who want to experience the effects of CBD quickly, even if they are not as long-lasting as some other CBD delivery methods, often choose vaping as it's convenient and discreet – no different from using any e-cigarette.
There is a lot more scientific research to be done and clinical trials yet to be carried out on the medical benefits of CBD in relation to specific conditions or ailments, but many people believe that CBD has multiple positive effects on their wellbeing.
Known to aid relaxation, many people use CBD vaping throughout a busy or stressful day or to help them switch off in the evening. CBD is believed to help support a good sleep wake cycle and due to the unique way that CBD interacts with some of the body's receptors, early studies indicate it could have a positive impact on many other areas in supporting general core functions in both body and mind.
Sustainability