cbd giftsSustainability
The best CBD Gifts for a really chilled Christmas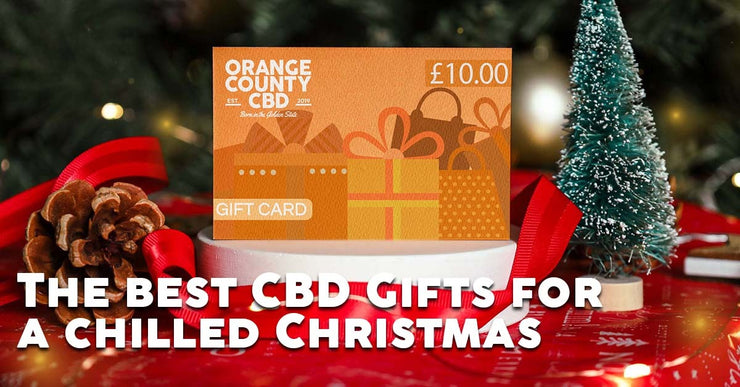 The best CBD Gifts for a really chilled Christmas
The festive period is officially upon us, and it can bring a whole lot of seasonal stress with it! So, if you're struggling to find the perfect present for the person in your life who never seems to relax, our edit of CBD gifts will give you some great ideas to help give them a super-chilled Christmas in 2022!
But first, why give the gift of CBD this Christmas?
CBD is a completely natural extract of the hemp plant, famous worldwide for its role in aiding relaxation, boosting your mood, and assisting with getting a good night's sleep.
CBD works by interacting with the human body's endocannabinoid system; a series of receptors that are found in each of our organs. When CBD binds with this system, it helps to relieve muscle and mental tension and boost those feelings of relaxation and contentment that this compound is so renowned for.
CBD can be infused into a huge range of products, which is why we offer such a huge catalogue here at Orange County to ensure we've got something for everyone! 
But with so many options available, which product will make the perfect CBD gift this Christmas? Here are our top picks!
Stocking Filler CBD Gifts
CBD Gummies
Add some extra sweetness to your loved one's Christmas this year with our delicious selection of CBD gummies.
These award-winning cannabinoid-infused edibles carry a powerful kick of broad-spectrum CBD, helping the ones you love get that ideal holiday buzz.
From our classic bottles and bears to our irresistible worms, our succulent strawberries, and our fantastic cherries, our gummies come in a whole range of styles and are 100% vegan-friendly.
Can't decide which tub to choose? Our CBD Gummy Gift Set is the perfect stocking filler for anyone who needs to take the edge off this Christmas.
CBD Bath Bomb
'Tis the season for relaxation and indulgence, and there's no better way to help that special someone take their de-stressing session to the next level than with a luxurious CBD bath bomb.
Balancing a strong dose of broad-spectrum CBD with carefully selected skincare ingredients, our premium CBD bath bombs are specifically designed to help ease muscle tension after a long day - making them the perfect gift for anyone who's been doing the most to make Christmas absolutely perfect.
CBD Gift Sets
Want to give the one you love the gift of self care this Christmas? Our CBD gift sets make the perfect present for friends and loved ones who deserve some much-needed R&R this festive season. 
Each of our CBD gift sets contain a curated collection of our most sought-after products to create the perfect self-care experience for the ones you love.
CBD Starter Kit
Is the person you're buying for new to the world of CBD? Our CBD starter kit is the perfect place to begin! Coming with an oil designed for newbies and a small tub of our delicious gummies, this kit is the best way to get anyone started on the road to wellness this Christmas. 
Expert CBD Gift Set
Buying for someone who's already a seasoned CBD user, then look no further than our expert CBD gift set. Offering one of our strongest CBD oils and a small tub of gummies to give that extra kick, this is one of the cheapest ways to give the gift of wellness this year! 
Buddy's CBD Bundle
Need a stocking filler for the furriest member of the family this year, look no further than our Buddy's Bundle. 
This combination of delicious edibles and an irresistible oil is the perfect choice for your best friend this Christmas!
Super-Strength CBD Gifts for experienced users
Strong CBD oil
Buying for a CBD enthusiast this season? Here at Orange County we offer the strongest CBD oils on the market, presented in the most beautiful keepsake boxes perfect to display. 
Treat the one you love to our powerful 12,000mg oil or our strongest CBD oil ever, the 25,000mg, and really help to give them the most chilled Christmas they've ever had.     
CBD Capsules
It's no secret that CBD has a distinct, earthy taste that isn't for everyone, so if you know someone who needs a little help to unwind but isn't sold on the flavour, our CBD supplements are a great call! 
With a set amount of CBD per capsule in a range of different concentrations, these are the perfect choice for someone who wants an accessible and no-nonsense CBD routine.
Orange County Digital Gift Card
When it comes to CBD everyone has their own tastes. If you're not sure about what to get your special someone, why not put the choice in their hands with an Orange County CBD gift card?
These gift cards have no expiration date and range from as low as £10 to as high as £100… and with no concern about the card having to get to them in time, this is the perfect choice for those last-minute gifts.
cbd gifts
,
Sustainability