health
Three irresistible plant based CBD recipes to try this Veganuary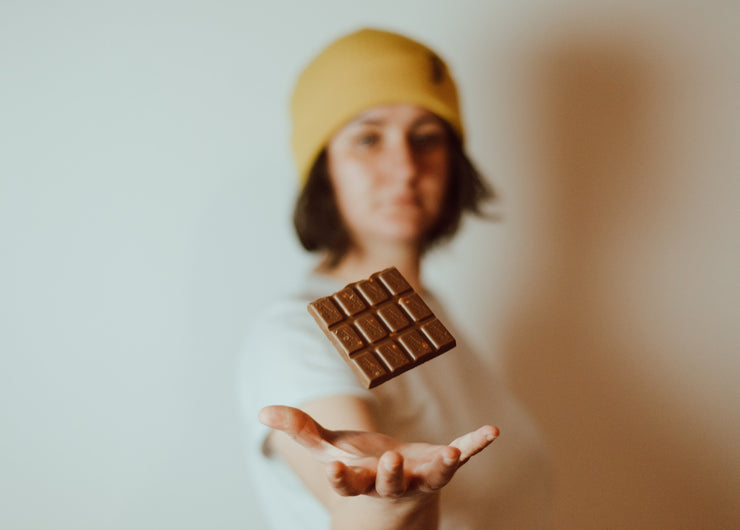 Three irresistible plant based CBD recipes to try this Veganuary 
Plant based food is becoming more popular than ever, both for full-time vegans and those who are taking part in Veganuary or simply like to try it on occasion.
This widespread appeal, along with the healthier options that going plant based can bring, helps to make veganism one of the most popular dietary choices today.
As this popularity has risen, it has become apparent just how flexible veganism is. Between classic recipes and modern innovations, vegan food can be just as delicious and varied as any other. 
The versatility of plant based recipes make them some of the best to pair with CBD - and if you're trying Veganuary for health-based reasons, we've shared three of our favourite vegan recipes with an added boost of CBD wellness. The only thing you have to worry about is which one you're going to make first.
CBD infused vegan blueberry pancakes
If you're looking for an indulgent, CBD-enhanced and vegan friendly breakfast, these pancakes just can't be beaten. Light and fluffy, the oat milk and coconut oil in this mixture makes for a satisfying meal with the same delicious taste and texture as any conventional recipe.
The light nature of these pancakes are paired perfectly with our CBD oils, mixing flawlessly with the batter to bring through their benefits in every bite.
Thanks to its high temperature resistance, our CBD oil continues to work effectively even when fried in a pan. These fruity pancakes are the perfect way to start off your day with an impactful CBD hit.
Makes: 6 pancakes
Ingredients:
400ml of oat milk

350g of self-raising flour

2 tbsp of melted coconut oil

2 tbsp of maps syrup

2 handfuls of fresh blueberries

1 full pipette of

Orange County full-spectrum CBD oil

(1500mg)
Method:
Mix together the flour and chia seeds, stirring thoroughly until there are no lumps.

Add the oat milk, coconut oil and maple syrup and continue mixing until you have a thick, smooth batter.

Add Orange County CBD oil and stir until it is completely integrated. Leave the batter aside for 5-10 minutes to thicken.

Once the mixture has reached a suitable thickness, head a frying pan to a medium heat. If you have any extra coconut oil use this to slicken the pan, otherwise use margarine.

Once the pan has reached the appropriate heat add a ladleful of batter, tipping the pan to create the classic circular pancake shape.

Once the pancake has begun to cook, sprinkle in a handful of blueberries and make sure they are fully surrounded by the batter. Cook the pancake for 2-4 minutes until the base feels fully cooked.

Flip the pancake and cook for another 2-3 minutes. Place the pancake on a hot plate to keep it warm before cooking the remaining pancakes. Serve hot with whatever toppings you prefer and enjoy!
CBD beet pesto pasta
Pesto is a classic staple of the modern kitchen, finding a welcome place in everything from pasta dishes to rice, mushrooms and even pizzas.
Whilst traditional pesto is not vegan, there are a wealth of vegan friendly alternatives out there to enjoy. Some of the most popular ones use the complex flavours of vegetables to make a creamy, delicious pesto with an incredible depth of flavour.
This beet pesto pasta is one of the best we've ever found. Velvety smooth and with a distinct depth of taste, it provides a healthy and nutritious vegan alternative to traditional pesto that goes perfectly with a dose of our award-winning CBD oil.
Serves: 2
Ingredients:
225g of fusilli

2 cloves of garlic

2 large red beets, peeled, cooked and roughly chopped

70ml of olive oil

1tbsp of red wine vinegar

Minced fresh chives (to garnish)

Salt

1 full pipette of

Orange County full-spectrum CBD oil

(3000mg)
Method:
Bring a large pot of salted water to boil. Add the fusilli and cook until soft.

Place the garlic in a food processor, blend until finely minced.

Add the beets, olive oil and vinegar to the food processor, blending until you have a smooth, pesto-like consistency free from lumps. Add the CBD oil in mixing thoroughly. Salt to taste.

Drain the pasta and add the pesto, mixing until your pasta is completely saturated. Serve into bowls and garnish with minced chives. Enjoy!
CBD infused vegan chocolate pudding
A vegan chocolate pudding is an excellent way to bring a succulent twist to your CBD dosing routine.
Deliciously indulgent, this particular recipe doesn't just leave it at the usual mix of chocolate and sugar. The addition of peanut butter gives it a complex flavour that is utterly mouth-watering.
This only gets better when you add in one of our flavoured broad-spectrum CBD oils to give it an extra fruity or minty overtone.
We chose this recipe both for its deliciousness and its incredible ease. With no need to bake and a preparation time of just 10 minutes, this is the perfect way to add that sweet indulgence to your CBD routine no matter what your dietary requirements are.
Serves: 2
Ingredients:
450ml of oat milk

28g of cornstarch

50g of coconut sugar

25g of unsweetened cocoa powder

1 pinch of salt

1 tsp of vanilla extract

2 tbsp of peanut butter

50g of dairy free chocolate (optional for an extra intense chocolate flavour)

1 full pipette of

Orange County full-spectrum CBD oil

(1000mg)
Method:
Add the oat milk, corn starch, sugar, cocoa powder and salt to a large mixing pan. Whisk until the flour or starch has completely dissolved, then bring the mixture to a boil whilst whisking frequently.

Once the mixture has reached boiling point, turn the heat to low. Continue whisking for 60 seconds. The mixture should begin to thicken.

Remove the pan from the heat and add the vanilla extract, peanut butter, and chocolate (if using). Add CBD oil and whisk until all the lumps are gone.

Pour the mixture into containers and cover with plastic wrap. Leave the mixture to set for 2-3 hours before enjoying!
As veganism becomes even more popular it's only getting more evident how much this kind of diet is capable of. The three recipes we've gathered here are just a small example of what veganism can do, offering a selection of meals as delicious as any others out there.
Any food can be improved with a hearty dose of CBD, but these recipes are perfectly designed to bring you an effective CBD kick in an irresistible form. Whether you're looking for the perfect pancake breakfast, a warming pasta and pesto dinner or an indulgent chocolate pudding, these meals are one of the most enjoyable ways to get your CBD fix.
For the best way to infuse CBD into your everyday meals, check out our unbeatable collection of CBD oils today.
health