cbd recipesSustainability
Five CBD Recipes You Need To Try This Autumn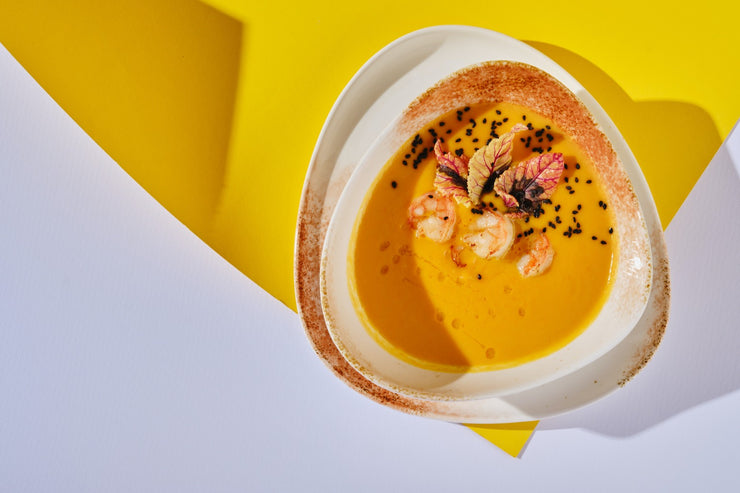 Five CBD Recipes You Need To Try This Autumn
Lots of people like to take their CBD by adding it to their food (or drinks) and with the leaves falling, the temperatures dropping and the nights drawing in, there's nothing quite like a warming autumnal feast to help you enjoy this colourful season to the max. We've compiled some of our favourite CBD recipes that we think will go down a treat this Autumn.
CBD-infused Pumpkin Soup Recipe
There's nothing quite like a super-seasonal pumpkin soup at this time of year. Whether you're using the leftovers from a pumpkin carving session to prepare for Halloween, or just love the nostalgia or warm fuzzy feelings inspired by pumpkin flavours in the autumntime, a hearty soup, infused with CBD oil, is a real winner.
It's so easy that we don't think a full CBD recipe is needed, simply brown some onion in a pan, add your chopped pumpkin, add some stock, season and simmer until soft. Add some cream and blend the soup to the consistency you want. Finally, add a dose of CBD to your portion just before you eat it. Job done!
CBD Scouse 
With our roots in the fine city of Liverpool, a pan of Scouse is something close to our hearts (and bellies), especially at this time of year. Essentially a type of stew that can contain virtually any combination of vegetables and meat (although most often with lamb or beef), with many families in Merseyside having their own secret recipe that is passed down through the generations, you're never going to find a definitive recipe that absolutely everyone agrees on. However, we reckon that this one is a great all-rounder and if you don't want to keep it veggie (also known as Blind Scouse), you can simply add the meat of your choice when instructed. With added CBD, this version of Scouse is really straightforward to make.
Most of the point of Scouse is that you just chuck whatever you have in the veg rack or the fridge into a pan, but that doesn't work too well in a recipe format – so instead we think you'll need the following to make enough scouse for four people:
     

4 large potatoes (cubed 2cm)

     

4 carrots (sliced)

     

2 brown onions (sliced)

     

2 leeks (sliced)

     

A stock cube or stock pot (vegetable, beef or lamb, depending on what meat you're using, if any)

     

Approx 500g of lamb or beef (cubed) if you wish to include meat

     

A pipette of

3000mg CBD oil

     

You can add a couple of bay leaves and a few sprigs of thyme if you wish
CBD Scouse recipe instructions
Everything you put into scouse should be cut into bite-size pieced. Once you have softened the onions, you can add everything else into the pan (apart from the CBD) at the same time, season and cover with cold water.
Bring to it the boil, cover and simmer for at least an hour, stirring occasionally. You might want to leave off the lid for a while to let the sauce reduce until the consistency is like thick gravy. Add the CBD to the recipe and serve when ready.
CBD infused Treacle Tart 
If anything could scream Autumn and rainy days when you're cosy indoors, it would be treacle tart. This super-simple CBD recipe includes our famous oil so you can add in your daily cannabinoids in a way that beautifully complements the dish. You can make your own shortcrust pastry however, this CBD recipe uses ready made for ease! 
Ingredients to serve 6 people: 
1 Lemon (zested)

400g golden syrup

2 eggs 

100g breadcrumbs (day old works best!)

½ ball of stem ginger (plus 30g of syrup)

Shortcrust pastry

Butter for greasing
CBD Treacle Tart instructions:
Preheat your oven to 180c/Gas mark 4.
Start by greasing the 25cm pastry tin with butter and place the shortcrust pastry inside (leaving the pastry over the edge to be chopped after the blind bake) 
Place a sheet of baking paper over the pastry case and fill with baking beans (or any kind of dried rice or beans you may have). Bake in the oven for 15 minutes. 
Whilst the pastry case blind bakes, combine the rest of the ingredients in a mixing bowl, ensuring it is well mixed. 
After the 15 minutes is up, remove the baking paper and baking beans. Add the treacle mixture to the case, making sure it is nice and level. Cut the edges to make it look tidy and place back in the oven for 30 minutes or until the filling is set. 
Serve this delicious CBD infused recipe warm or cold, it's totally up to you! 
CBD-infused Mulled Apple Drink
Nothing beats a bit of spiced apple for instilling those autumnal vibes, so we think this warm drink is the perfect treat to enjoy at this time of year, with its tasty infusion of apple CBD oil.
Ingredients to serve 6 people:
     

1 large orange

     

A pint of apple juice

     

Spices – we like star anise, cloves, ginger and cinnamon

     

1 pipette of apple CBD oil
CBD mulled apple drink instructions:
Slice a large orange.
Add the apple juice to a large pan and while it heats up, add the spices and slices of orange. Stir regularly. Add the CBD oil to the drink and continue to heat whilst everything infuses. Serve immediately.
CBD Chai Tea
If you want to try something a little bit different when it comes to hot drinks this Autumn, how about a CBD chai tea recipe? This flavoursome tea is infused with CBD oil and is the perfect warming drink for this time of year.
To make two mugs of CBD chai tea, you will need:
     

2 mugs of milk (milk substitutes work well if you don't want to use dairy)

     

2 teabags of normal/English Breakfast tea

     

Half a stick of cinnamon

     

A pinch of grated fresh nutmeg

     

6 cracked cardamom pods

     

2 cloves

     

3 tsp light brown sugar

     

Half a pipette of 1500mg CBD oil

     

You'll also need a strainer
CBD chai tea recipe instructions:
Put a saucepan on a low heat and add the milk. Once warm, add the contents of the two tea bags, the cinnamon stick, nutmeg, cloves and the cracked cardamom pods. Add the sugar and leave to infuse, but don't allow to boil, for around 10 minutes.
Strain the recipe into the mugs, add the CBD equally between the two drinks and enjoy!
If you have any favourite autumnal recipes that you'll be adding CBD to this year, we'd love to see what you create! Tag us (@orange.county.cbd) in your pics on Instagram.
Do you have some favourite CBD recipes? Tell us them via Instagram! 
cbd recipes
,
Sustainability