Sustainability
CBD smoothie bowl recipes you need to try!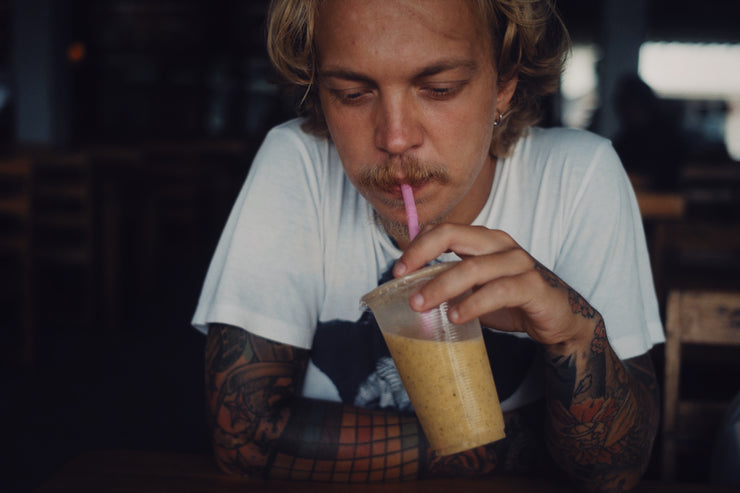 CBD smoothie bowl recipes you need to try!
Here at Orange County we love a super-quick easy smoothie, but there's something so satisfying about creating a colourful, energy boosting smoothie bowl with an added kick of CBD.
Smoothie bowls are exactly they sound like; a delicious mixture of fruits and vegetables finished with toppings of your choice.  You can create pretty much any combo of flavours that you want , making it much more satisfying than a regular smoothie that you drink in 10 seconds.
So, from berries to nut butters, we've got a smoothie bowl recipe you'll love - all infused with our premium CBD for that extra boost of wellness.

PRO TIP: If you want to make your smoothie bowl look as good as it tastes, add the heaviest ingredients last.
CBD smoothie bowl method:
Add all ingredients to the blender and secure the lid on.

Blend on high speed until ingredients are completely broken down.

Use a spatula to spoon mixture into a bowl, then add over toppings. 
CBD infused peanut smoothie bowl
A smoothie bowl is only as good as it's toppings! For this super-thick smoothie bowl we love drizzling loads of creamy peanut butter on top. You can also add over any other toppings you like. Some of our favourites include granola, coconut flakes, banana slices, and peanuts. 
Smoothie ingredients 
1 large ripe banana, sliced and frozen

(about 1 cup sliced)

1/2 cup plain Greek yogurt

1 tablespoon ground flaxseed

1 tablespoon peanut butter

3 tablespoons almond milk
Toppings of your choice:
Peanut butter drizzled on top

Granola

Unsweetened coconut flakes

Banana slices

Peanuts
'Peachy Pink' CBD smoothie bowl
Smoothie ingredients:
2 cups frozen mango

2 cups frozen peach

2 cups frozen strawberry or watermelon 

1/4 cup almond milk (or milk of your choice)

1 tbsp sweetener (maple syrup)
 Toppings of your choice:
Strawberries

Raspberries

Peach

 
Tropical CBD smoothie bowl
Smoothie ingredients
1 banana, sliced and frozen

1 c. frozen mango chunks

1 c. frozen pineapple chunks

1 c. almond milk
Toppings of your choice:
Mango

Coconut shavings

Kiwi 

Almonds

Blueberries

 
Sustainability