Sustainability
CBD Oil vs Capsules: What Should I Choose?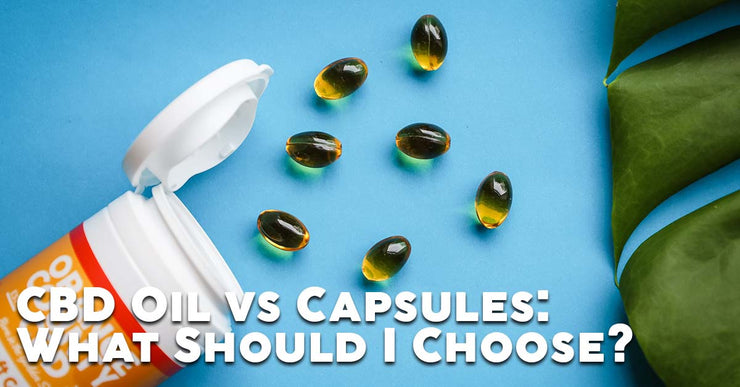 CBD Oil vs Capsules: What Should I Choose?
CBD can be taken in a wide variety of different ways, depending on your personal preference - and two of the most popular are CBD oils and CBD capsules.
While at first these two delivery methods for CBD might seem quite similar, there are some important differences between CBD capsules and CBD oil. It's important to know the specifics to help you make an informed decision and get the best CBD experience possible.
So, CBD oil vs capsules, which is better? Let's see how these two stunning products compare.
Why choose CBD oil?
Ultimate dosage control
With CBD oil, you have a bottle and dropper, so you can easily control the dosage that you take and change this as needed. If you're new to CBD, it's recommended that you start with a smaller dose and then gradually increase this over time as you require. Using CBD oil gives you precise and complete control over your dosage.
Easy to take
If you aren't a fan of swallowing tablets or capsules, then CBD oil offers a really easy solution as you can simply take some drops under the tongue. You won't need to worry about having a drink to hand in order to get your dose.
Gets into your system quickly
The amount of time it takes for CBD to be absorbed into the body (known as bioavailability) is very short with CBD oil. Bypassing the digestive system, it is both significantly faster and more intense than other dosing methods.
You can add CBD oil to food or drink
If you want your hit of CBD in the form of your favourite drink or food, you can easily do so with CBD oil. This is also a good way to disguise the earthy taste of CBD if you don't enjoy it.
You can take it in your morning coffee, add it to a smoothie or even incorporate it into a full meal. This additional versatility is important for those who like to have different options on dosing their CBD and like to mix things up a little every now and again.
CBD oil comes in a huge variety of different strengths and flavours
CBD oil comes in a wide range of different strength options, giving users a lot of flexibility in terms of dosage. With lots of different flavours, everything from mint to apple and cherry, this gives CBD oils even more variety and flexibility of application.
Why choose CBD capsules?
Get an exact dosage every time
The CBD dosage in a capsule will be the same every time, which means it's pretty much impossible to lose track of what you've taken. The packaging of your CBD capsules, whether they are soft gels or hard capsules, will state precisely how much CBD each one contains to remove any uncertainty.
Convenient on the go
CBD capsules are really easy to take with you when you travel or are just out and about when you want to take your dose – as you don't need to take a whole bottle with you if you don't want to, just whatever number of capsules that you wish.
CBD capsules are discreet to take
When compared to oils, CBD capsules are extremely discreet and can be taken any time and anywhere. Just swallow the capsule whenever you like, with something to wash it down, without drawing any unnecessary attention.
Capsules don't have a 'CBD taste'
Whilst many people who take CBD have no problem with its natural taste, like some unflavoured CBD oils, it certainly isn't for everyone. CBD capsules have no taste and, as they are swallowed quickly, the capsule isn't in the mouth long enough to taste.
CBD capsules can have a more gradual release time
CBD capsules take a little longer to enter the bloodstream than some other forms of CBD, as they are digested first, but this can mean longer lasting effects for some people. For some, this is preferable rather than experiencing a quicker effect that may not last as long.
Summary
Being able to have the option to take CBD either in  its oil form or as a capsule means that, whatever your personal preference, there's something out there to suit you.
This choice will always come down to the way you prefer to take your dose of CBD and how that fits into your daily routine. It can be worth trying a few different CBD delivery methods over time to find that perfect fix.
Once you do your CBD experience will truly  be unrivalled.
For more information on all things CBD, check out our FAQs.
Sustainability