Sustainability
Why is Gen Z Switching to CBD Skincare (& Why Should We Care)?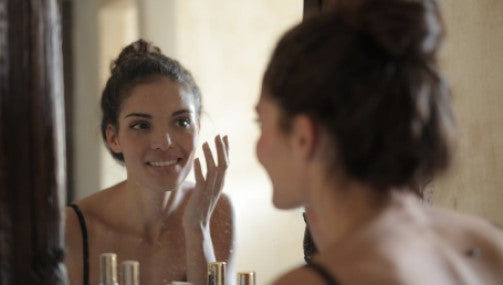 Why is Gen Z Switching to CBD Skincare (& Why Should We Care)?
As much as the older generations hate to admit it, Gen Z is in charge now. They're setting the tone for how we communicate, what we wear, what we dance to, and which products we put on our skin. And in most cases, these trendy teens and 20-somethings are onto something. Right now, they're advocating for CBD in skincare. So should the rest of us listen up? 
Millennials, Boomers and Gen Z-ers that haven't yet latched onto the benefits of CBD creams or balms , this one's for you.
Let's talk trends: CBD skincare & Gen Z
The popularity of CBD has exploded over the last few years. While the benefits of CBD have been known for centuries, we've seen it sweep global markets at a phenomenal rate just recently.
A 2020 study estimated the market to triple in 5 years, with adoption across the generations clear to see. From 20 year-olds looking to relax to older people trying to target pain, the uses of CBD are catching on and leaving no one behind.
But the generation pushing the industry growth forward most is Gen Z, according to experts. It's estimated that they're twice as likely to use CBD products than anyone else. So what are the benefits of CBD in skincare, and is it smart to follow in the Dunks-clad footsteps of Gen Z, anyway?
What are the benefits of CBD in skincare?
We get it. You're pretty attached to your retinol serum, your moisturiser and the rest of your beauty routine. There's no room left in that beauty cabinet and even if there was, you're worried your skin's health will take a hit if you swap to CBD skincare and it all turns out to be a fad.
But the evidence says you don't need to worry. We've seen review after review of people of all ages switching to CBD products and noticing positive changes. From calmer skin with less redness to smoothed, moisturised and blemish-free faces, it seems that the best CBD skincare is really presenting a bright future for the skin.
Let's take a look at a few reported benefits.
Healthy, clear skin
Without getting too science-y, CBD comes from the Cannabis Sativa plant and contains cannabinoids. Don't worry: it won't get you high. Your body naturally has its own cannabinoids (endocannabinoids) which support healthy skin. When these endocannabinoids aren't working at their best, you might notice it in the form of skin that looks less healthy, less glowy or has more blemishes. 
CBD could restore the body's natural system, to help maintain healthy, clear skin. 
Younger-looking skin
CBD comes from a plant, so it's naturally full of antioxidants. And as you already know, the beauty world loves that stuff. Antioxidants help reduce the visible signs of ageing, like lines, wrinkles and dullness. In general, CBD is used to calm the skin - and we could all use a little more calmness in our lives.
Antioxidants work alongside anti-inflammatory ingredients to treat concerns like redness, dryness and free radical damage. Their healing properties could be a game-changer for skin routines everywhere.
Treating skin issues
Los Angeles dermatologist, Dr Shirley Chi says CBD soothes skin, and has been used to treat common skin concerns like acne, rosacea, eczema and dryness. Alongside that, it could also be good for psoriasis. 
Dr. Nima Gharavi, dermatologist and skin cancer surgeon at the Cedars-Sinai Cosmetic Dermatology Program, says CBD could help hydrate the skin and have anti-inflammatory effects. So, if this is proven, it could replace the use of steroids to treat issues like eczema, psoriasis and inflammatory conditions - without the side effects typically associated with topical steroids.
She does, however, add that more studies are needed to assess how CBD improves skin quality and health.
Regulation of oils
It's supposed to be the domain of teenagers, but acne often follows us into later life. So on their hunt for Instagram-perfect skin, loads of Gen Z are experimenting with CBD in skincare. And we're here for it.
CBD has been found to have soothing benefits - so it's good for even sensitive and reactive skin. On top of that, it could play a part in balancing the flow of the skin's oil, and inhibit the production of excess sebum. 
As always, more studies may be needed for more conclusive evidence, but the results so far are looking pretty promising.
What does Gen Z know, anyway?
via GIPHY
If you were born just a little too early to be classed as a Gen Z-er, you might be reluctant to take their advice. After all, the generation before you didn't want to listen to you - remember?
But according to research, Gen Z seem to know what they're talking about when it comes to health and lifestyle. Gen Z are sleeping better and feeling less anxious than the rest of us. They've nailed their daily routine - so it looks as though all that time on TikTok is paying off. Now, when the group is singing and dancing (literally) about the CBD skincare benefits, we should probably listen.
The other thing to note about the younger generation is that they're not afraid to call out brands they don't like. They've grown up with social media in their lives, and if a brand doesn't live up to expectations, the whole world will know about it. So, companies have to step up their game. That means the weak brands will fall out and only leave space for the best CBD skincare companies.
False promises and dud products? Not anymore.
CBD & retinol: The dream team?
Photo by Audrey M Jackson on Unsplash
Sometimes things just work. Wine and cheese. Sausages and eggs. CBD and retinol.
Even the biggest names in the aesthetics biz are latching on. Dr Few is a plastic surgeon who says CBD has revolutionised his approach to skincare. He first began combining CBD with retinol to determine whether the soothing effects of CBD counter-balanced the irritation that retinol sometimes causes. 
It turned out that not only was his hypothesis correct, but that CBD and retinol also played a part in reducing inflammation of the skin. 
He also cites other potential benefit of CBD in products for the skin, saying it could help combat acne, rosacea, wrinkles, sun damage and even hyperpigmentation. He describes it as a game-changer in his practice. Personally, we can't wait for even more studies to come out, so we can see how CBD works with retinol for the skincare routine you've been dreaming of.
Listen to the kids - buy CBD skincare
Gen Z has spoken! With so many potential benefits of CBD skincare, it could be time you tried it. Buy CBD skincare online from a company you can trust and discover how it could elevate your skincare routine! No cringey TikTok dance required.
Sustainability