Sustainability
4 Best CBD Gummies in the UK for 2022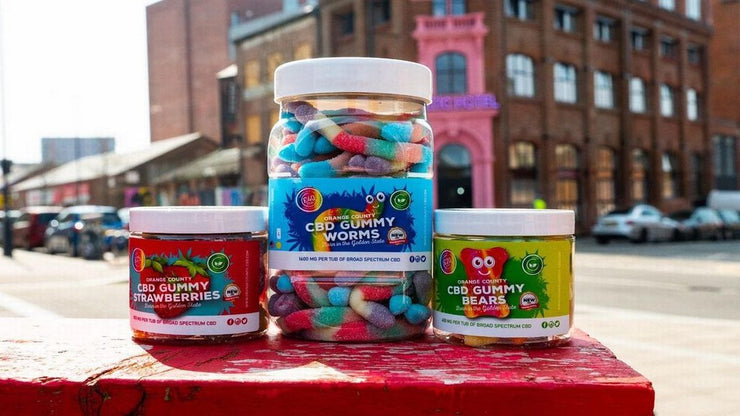 4 Best CBD Gummies in the UK for 2022
CBD gummies are a delicious way to enjoy CBD in the UK in 2022. Orange County's gummies are by far the best you can get in the UK, and are enjoyed across the globe. We have even won awards such as 2nd place for Best Edible in the 2020 Cannavist Awards and 1st for Best Edible at the 2020 Canex Awards. Do you want to try out the 5 best CBD gummies in the UK? Find out which are ranked the best and order online for quick delivery and fantastic offers.
Why Purchase CBD Gummies From Orange County CBD?
All of our CBD gummies are made from top-quality ingredients.
Our CBD gummies are 100% vegan and vegetarian-friendly.
Available in the UK's most popular sweets e.g. cherries, strawberries and gummy worms.
THC is undetectable in our CBD gummies.
Consistently fantastic reviews from our loyal customers.
Winners of multiple awards from organisations from the UK and around the world.
Affordable and accessible products. Buy in bulk to save money in the long run.
The products and processes are 100% legal.
We are open with our customers, feel free to read our lab reports or ask us any questions that you may have.
CBD Gummy Worms
Gummy worms are one of the most popular sweets in the world, and with the satisfying CBD kick, you can enjoy the sweet, traditional taste with the enjoyable benefits of CBD. A treat for your taste buds, mind and body. If you are interested in finding out more about the benefits of CBD, check out our blog for stories and information from users around the world. 
CBD gummy worms are available to purchase in different amounts. Orange County CBD offers grab bags, which contain 200 mg of CBD for just £10.00, and are also available in double and triple packs. You can also purchase small tubs, which are ideal for when you want to enjoy CBD on the go. Or, if this is your personal favourite, then you can invest in a large tub of gummy worms for £40.00, which will keep you satisfied for a long time
CBD Gummy Bears
The classic treat of gummy bears with a twist. Enjoy the relaxing effects of CBD, such as a relief in anxiety or help with sleeping, but in the sweet form of a gummy bear. This is a fan favourite in the CBD community, as the taste is second to none and has an enjoyable effect. This is a great option for people who are regular CBD users.
CBD gummy bears are available in the following amounts:
Single, double and triple pack
Small tub
Large tub (up to 4800 mg)
CBD Gummy Cherries
Are gummy cherries your favourite sweet? Then you have got to try Orange County's range of CBD gummy cherries, so you can enjoy your favourite treat with a twist. The taste of CBD is practically unnoticeable over the delicious, iconic cherry flavouring.
CBD gummy cherries are one of the most popular products sold on our website. It is no surprise why, as these sweets have won multiple awards.
Do you want to join the hype? Purchase 100mg gummy cherries in a mini or grab pack. Or if you want something larger to keep you going for longer, invest in a small or large tub for under £40!
CBD Gummy Strawberries
Another top CBD gummies available to buy in the UK is CBD gummy strawberries. Taking on the traditional strawberry taste, with an impactful CBD twist. This type of CBD edible is very popular amongst customers, with some amazing reviews and reaping many awards. 
The refreshing fruity flavour will leave you wanting even more. If you want to try these out, then purchase a mini or grab pack. Or if you are working on building a huge collection of CBD gummies, invest in a small or large tub to bulk up your treat cupboard.
Sustainability