Sustainability
5 CBD Winter Warmer Recipes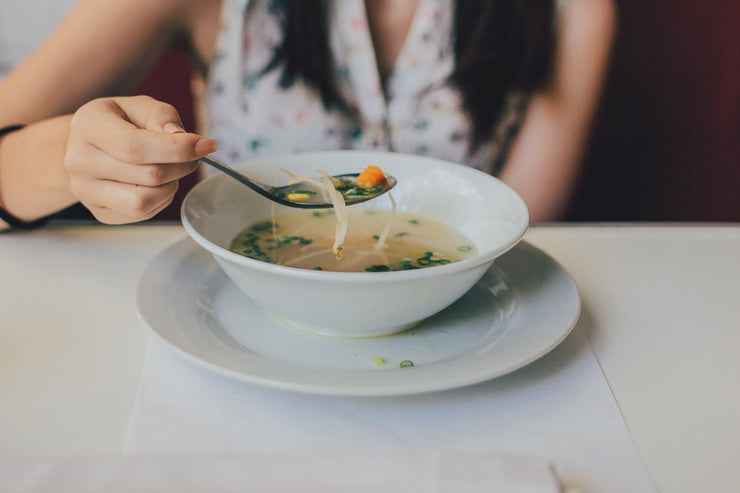 5 CBD Winter Warmer Recipes
'Tis the season for good, hearty food to help keep us cosy against the chill outside - and what better way to give yourself a much needed Winter wellness boost than infusing your meals with CBD? So, today we've got 5 CBD winter warmer recipes to help make sure you feel good all season long.
CBD infused Leek and Potato Soup
Starting with one of the most classic winter warmer recipes, we have a unique take on the traditional Leek and potato soup. Filling, nutritious and flavourful, this soup is a delicious and effective way to get your dose of CBD.
Ingredients 
(Serves: 2)
25g of butter

225g of potatoes, diced into 1cm cubes

225g of leeks, sliced

1 small onion, diced

425ml of chicken or vegetable stock

60ml of full-fat milk

Chives

Salt and Pepper

Your preferred amount of Orange County full-spectrum CBD oil
Instructions
Step 1: Melt the butter in a saucepan. When sizzling add the potatoes, leeks and onions and ensure they are well coated. Add salt and pepper and cover the pot for 10 minutes, simmering on a low heat.
Step 2: When the vegetables are soft (but not browned) pour in the stock and boil for about 5 minutes. Remove from the heat and add your preferred dose of CBD oil.
Step 3: Remove about a third of the soup to add back in later. Blend the remaining soup until it is light and creamy, then return it to the pan and add the milk. Add the unblended soup and heat until it's nice and hot.
Step 4: Add the chives and any additional seasoning to taste. Serve up and enjoy!
CBD Tomato and Courgette Stew
A tomato and courgette stew is a healthy vegan alternative to the many meat stews that are often such staples when it comes to winter warmer recipes.
Warming and nutritious, (and giving you two of your five-a-day) this stew is perfectly enhanced with a hearty CBD kick.
Ingredients 
(Serves: 2)
1 tbsp of olive oil

1 onion, chopped

2 cloves of garlic, crushed

2 courgettes, quartered and sliced

400g of chopped tomatoes

1 or 2 pipettes of Orange County full-spectrum CBD oil

Salt and pepper

Basil

25g of vegan parmesan
Instructions
Step 1: Heat the oil in a large pan over a medium heat, adding the onion and cooking until it browns. Add the garlic and cook for a further 5 minutes.
Step 2: Add the courgettes and cook until softened. Add the tomatoes, stir and reduce the heat to a simmer.
Step 3: Simmer for approximately 35 minutes. Add the salt and pepper, adjusting to taste. Add the basil, parmesan and your preferred dose of CBD, stirring well. Serve with bread and enjoy!
CBD Bangers and Mash
Who doesn't love a plate of bangers and mash to warm up those cold winter evenings? This unbeatable meal is made even better when you enhance its rich gravy with a dose of CBD, letting it double as your delicious way to maintain your CBD routine.
Ingredients 
(Serves: 2)
4 sausages (meat or substitute)

2 small onions, diced

Butter

1 sprig of thyme

1 bay leaf

A pinch of sugar

1 heaped tsp of flour

1 tbsp of red wine vinegar

1 glass of red wine

1 tsp of soy sauce

400ml of beef or vegetable stock

1 or 2 pipettes

of Orange County full-spectrum CBD oil
For the mash:
1 large King Edward potato, peeled and chopped

100ml of whole milk

50g of butter

A grating of nutmeg
Instructions
Step 1: Preheat the oven. Pour the oil into the pan and pre-cook the sausages for 5-10 minutes until brown on all sides.
Step 2: Remove the sausages and drain the oil. Place the butter in the pan and heat until sizzling. Add the onions, sugar, bay leaf and thyme, cooking for 5 minutes and stirring.
Step 3: Pour the seasoned butter into a baking tin, adding the sausages on top and then cook for 20 minutes.
Step 4: Whilst the sausages are cooking, place the potatoes in salted boiling water, reducing the heat to a simmer for 10-15 minutes. Make sure the potatoes are fully cooked, then drain the potatoes and leave them to cool for several minutes. 
Step 5: Tip the milk into the pan and bring it to a simmer, then add the potatoes and mash. Once fully mashed, slowly add the butter and work it in with a wooden spoon. The end result should be a light, fluffy mash that is creamy without being heavy. Be sure to keep the mash warm.
Step 6: Once the sausages are fully cooked, drain the butter from the baking tin into a pan. Be sure to keep the sausages warm, then place the pan onto a medium heat, letting the onions sizzle. Add the flour and cook for another minute before adding the vinegar, the wine and the soy sauce, as well as your preferred dose of CBD oil.
Step 7: Let it reduce down to a thick consistency before adding the stock. Ensure it is all fully mixed, letting it boil for 3-5 minutes until you have a thick gravy. Plate up the mash and sausages, pour on the gravy and enjoy.
CBD Mince Pies
When it comes to winter warmer recipes, you really can't beat a classic Christmas mince pie. Especially delicious when warm, these pastries are a sweet staple of those dark December nights.
Adding a strong dose of CBD lets you turn these already irresistible sweets into superb edibles that will last you for weeks.
Ingredients
(Serves: 12)
Approximately 600g of mincemeat
2 satsumas, segmented

1 apple, finely chopped

The zest of 1 lemon

1 or 2 pipettes

of Orange County full-spectrum CBD oil

Icing sugar for dusting

375g of plain flour

260g of unsalted butter, softened

125g of caster sugar

1 large egg

1 beaten egg for glazing
Instructions
Step 1: Place the flour and butter into a bowl, mixing until they have a crumb consistency. Add the caster sugar and beaten egg and mix.

Step 2: Tip the mixture onto a floured surface and fold until the pastry begins to form, being careful not to overmix. Wrap the pastry in cling film and chill for 10 minutes.

Step 3: Scoop the mincemeat into a bowl, adding the satsumas, apple, lemon zest and enough CBD oil to last you for 16 sessions. Stir well.

Step 4: Preheat your oven to 220c / 200c -fan. Roll out the cooled pastry into a 3mm thick, using a round cutter to cut out 16 bases. Place the bases onto a muffin tray and fill each one, then brush the edge of each pie with beaten egg.

Step 5: Use a smaller round cutter to cut out 16 lids and press them onto the pies to seal them. Glaze the pies with beaten egg, sprinkle with caster sugar and cut a small vent in the top of each pie. Place them in the oven and bake for 15-20 minutes, making sure they're golden brown before removing. Be sure to enjoy each one piping hot to get the most out of them.
CBD Hot Chocolate
The perfect pairing to any delicious winter dessert will always be a mug of hot chocolate. Sweet and satisfying, this soothing drink is the ideal way to wind down in the evening. Adding a powerful dose of CBD helps to take those relaxing benefits up to the next level.
Ingredients 
(Serves: 1)
250ml of any milk (or substitute)

1 tbsp of cocoa powder

2 tbsp of light brown sugar

25g of dark chocolate, finely chopped

1 tbsp of whipped cream (or substitute)

1 or 2 pipettes

of Orange County CBD oil
Instructions
Step 1: Gently heat the milk, cocoa powder, sugar and chocolate in a pan, stirring regularly until the chocolate is fully melted into the milk. Whisk until the cocoa is fully dissolved and add your ideal measure of CBD oil, mixing thoroughly.

Step 2: Pour the chocolate into a mug and add a topping of whipped cream. Top it off with a sprinkling of grated chocolate and enjoy!
Sustainability